Organic Tamari Portion Packs for Food Service
Many individuals enjoy applying their own condiments and sauces to their food when eating out. You can elevate your reputation in the food service industry by providing your customers with convenient soy sauce packets from San-J.
Purchasing Organic Tamari Portion Packs for your food service business gives your customers the freedom to season their food to their liking with a soy sauce that is high in flavor.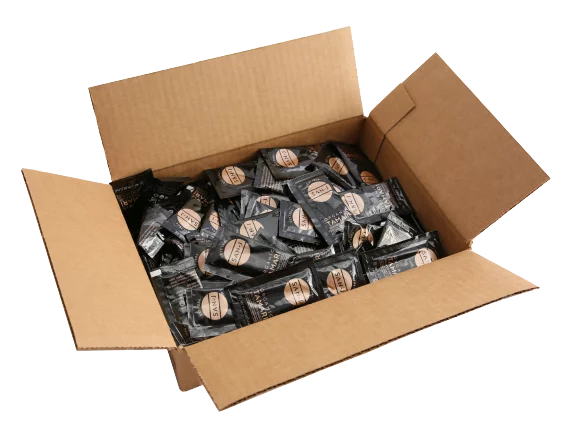 Details of the San-J Organic Tamari Portion Packs
---
Our travel-sized Organic Tamari Soy Sauce packets are perfect for takeout and delivery services. Portion packs are a cleanlier alternative to standard condiment containers, allowing individuals to use their own hand-held flavorings without touching bottles used by customers before them.
San-J Tamari Portion Packs are certified organic and GMO free, which means they don't contain hormones, pesticides or genetically modified organisms. San-J Organic Tamari is brewed with 100% whole soybeans and no wheat and has higher concentration of soy protein than typical soy sauce. It goes through an extensive, small-batch fermentation process to develop a richer, smoother, and more complex flavor which contains 30% more umami than typical soy sauce brands.
Organic Tamari Portion Packs boast many certifications and benefits:
Certified organic by USDA Organic and Quality Assurance International
Certified gluten free by the Gluten-Free Certification Organization
Non-GMO verified by the Non-GMO Project
Certified Vegan by Vegan Action
Certified Kosher by Orthodox Union
Certified Fodmap Friendly
No artificial preservatives, flavors, or colors added
Richer, complex flavor with 30% more umami than typical soy sauces
Contains 18 amino acids including all nine essential amino acids
Plant-based
Our soy sauce perfectly complements a wide variety of dishes and is suitable for those who are on a special diet such as gluten free and vegan. Organic Tamari Portion Packs are available in a case of 200, ¼-ounce on-the-go packets.
Purchase San-J Organic Tamari Portion Packs
---
Trade bulky sauce bottles for convenient packets with San-J Organic Tamari Portion Packs today.
Contact us for more information or browse our full product selection.
Nutrition Facts
Serving size
2 packs (15mL)
The % Daily Value (DV) tells you how much a nutrient in a serving of food contributes to a daily diet. 2,000 calories a day is used for general nutrition advice.
Ingredients
---
Water, Organic Soybeans, Salt, Organic Alcohol.
Allergens
---
This product contains soy ingredients.
Serving Size
---
2 packs (15mL)
Servings Per Container
---
1/4 oz
GTIN 00075810001059 | UPC 075810-001059