It's time for Spring gardening! For the past two years, we've been living in suburban Las Vegas, Nevada. Our Spring gardening this year is a modest patio garden, with our essential Asian herbs and vegetables, growing in a self-watering planter (more on this later.)
Prior to moving to Nevada, my family and I lived on a 5-acre homestead near Sarasota, Florida, where we enjoyed year-round gardening. In Florida, we grew all of our own vegetables, and even had pet hens that laid fresh eggs daily!
Our specialty was eco-friendly, all natural gardening, with a green house powered by an aquaponics system, an indoor micro-greens garden, and rows upon rows of raised beds and planters. It was our family hobby, and memorable learning experience. We gave away so many vegetables, herbs and fresh eggs to our friends, that we probably put a dent in our local super market sales!
Why we grow our own vegetables
In Florida, we lived in between some of the nation's largest orange groves…and a major interstate that spans from South Florida all the way up to the top of Michigan. During orange harvest season, we'd see massive semi-trucks overfilled with oranges in their open-top trailers rumble by from grove to freeway, delivering their goods to distribution centers nationwide.
When my son, Andrew, was 3 years old, we were reading a children's book about food, and I asked him, "Andrew, where do oranges come from?"
He replied, "A truck!"
I just about fell over! I was doing a horrible job as a parent teaching my own children about where food really comes from, and the dedication it takes to grow the food that nourishes our bodies.
A couple years later, when we had the chance to purchase the 5 acre farm, we immediately went to work building multiple gardens and a large chicken coop.
Our boys helped us every step of the way, from planning what to grow, hammering nails to build the planters, to getting their fingernails dirty with compost.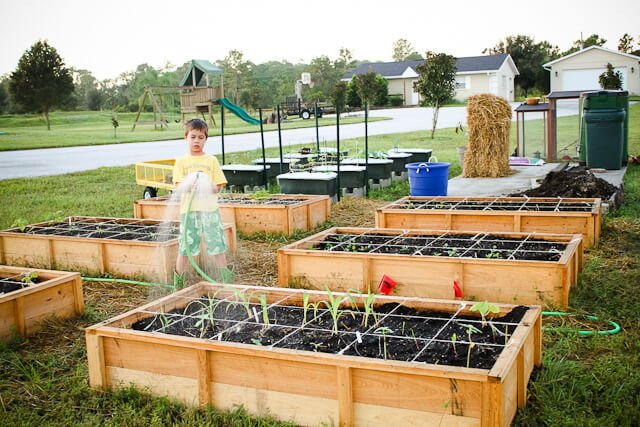 Before long, we were harvesting rainbow chard bigger than any I've ever seen: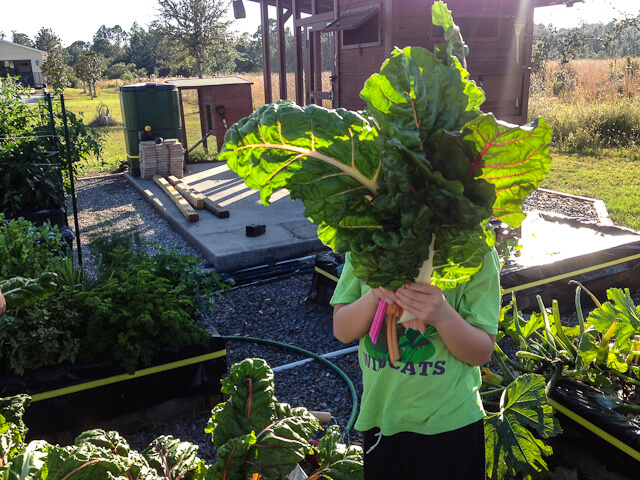 ….bell peppers so sweet that we ate them like apples:
Hatching baby chicks was the most fun: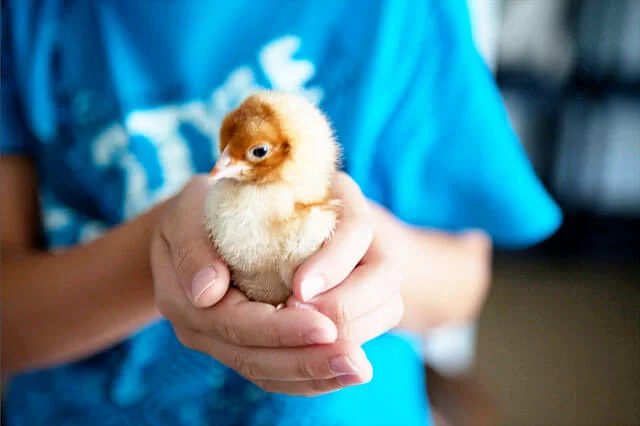 One of my favorite Spring vegetables is Pea Shoots.  You can grow them in 14 days, here's how we did it. Pea Shoots is just the baby plant of the pea, and only available in the markets in the early Springtime. The shoots are tender, so sweet and full of the bright, snappy pea flavor. Enjoy them raw in salads (especially when they are very young) and in a 3-minute stir fry with garlic, a pinch of sugar, and a touch of San-J Tamari.
Some of our favorite vegetables that we grew were Asian types that I couldn't find at our local grocery stores.
Mizuna – Japanese mustard greens popular in many baby mixed salads.
Shiso – One of my favorite herbs! You'll find this most often as a garnish on a sashimi platter. I love it just minced in my fresh salads, and in Vietnamese Spring Rolls.
Chinese Eggplant – This eggplant is a lighter, paler in color than Japanese or globe eggplants.  Asian eggplants are meatier, thinner skinned and less bitter than globe eggplants. Slice an eggplant in half lengthwise, marinate in San-J Sweet & Tangy Sauce, then grill.
Thai Basil – This is an indispensable herb in Southeast Asian cooking. Stir in your Thai curry, add a handful to your Vietnamese Pho and use the pretty lavender leaves as a gorgeous garnish.
Chinese Broccoli (Gai Lan) – Unlike regular broccoli you find in stores, Chinese Broccoli is best when you find long stems, long leaves and closed florets. The most popular way to enjoy them is stir-fried with garlic and oyster sauce and San-J Tamari.
Peppers – Oh, all kinds! My very favorite one is Japanese shishito, which is small, thin-skinned, sweet pepper that's simply grilled on skewers or shaken on a hot frying pan for a few minutes and then seasoned with sea salt. But be careful, while the peppers are mostly mild, every so often, one of the peppers will have a nice, spicy bite. It's like playing Russian roulette – you never know which one is hot-hot-HOT!
Japanese Cucumbers – Thin skinned, crunchier, less seeds and sweeter than regular cucumbers! No need to peel or de-seed prior to enjoying them. We love them in salads.
Easiest Way to Grow Asian Vegetables
If you're a beginner gardener and would like to grow your own Asian vegetables, I have several recommendations for you. Container gardening is the easiest way to garden, especially containers that are "self watering." That means you'll add water to the bottom of the planter box, and the plants will draw up exactly the right amount of water they need, through their roots and a soil "wick." This type of gardening is nearly fool proof – you'll never worry about over-watering.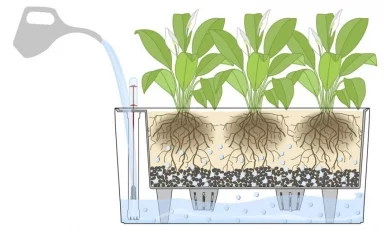 (image from Zero Soil Gardens)
We set a drip line, on a timer, into the planter so that watering is done automatically. There's very little work involved, other than harvesting your very own herbs and vegetables, and fertilizing once or twice a growing season.
We love the EarthBox, which are the dark green containers in our photos above. The planters are inexpensive, reusable, and will last you many years.
After growing your own vegetables it is important that you follow the right tips to keep produce fresh to use in your favorite dishes.
Self Watering Planters
EarthBox: I recommend the starter kit with just the hardware for $32.95. You can buy the soil and fertilizer locally to save on shipping costs.
Home Depot: Big City Pickers planters are larger than EarthBox, so you'll be able to plant three rows of herbs or vegetables (vs. EarthBox's 2 rows). This is currently what we are using in our backyard right now. $29.95 for each box (they also have one with a stand, making gardening easy on your back!)
Gardeners.com: They have three different earthy-colored planters. I think they are a bit overpriced here.
Where to buy Asian Vegetable and Herb Seeds
For years, I've sourced my seeds from Kitazawa Seed Company, the oldest seed company in the world that specializes in Asian vegetables! They began in 1917 in downtown San Jose, California. Their company history is fascinating, and their Safe Seed Pledge guarantees they don't sell genetically modified seeds.
Each Spring, I'll get their paper catalog in the mail, and sit with a cup of tea and devour each page of seed offerings. You can request a catalog here, or download their PDF version.
Trade Winds Fruit has a nice selection of greens, this Spring, I'm going to order their Dragon Tongue Mustard.
I've also ordered from Seed Savers Exchange, a nonprofit organization that preserves, shares and sells heirloom seeds. The Mizuna seeds I get from them always produces sweeter, less bitter leaves than any other source.
What types of Asian Vegetables to Plant
For Salad Lovers
Mizuna – Mizuna can grow fast! If you don't harvest frequently enough, they'll get thick, bushy and more bitter as it ages. To harvest, just pluck leaves, leaving the root to grow more.
Tatsoi  – This also grows very fast, going from seed to harvest in only 45 days. You can cut leaves as you need (more leaves will continue to grow) or harvest the entire plant to use. For salads, I harvest by cutting leaves after only 30 days and allow it it to continue to grow more.
Ruby Streaks Mustard – Tickly, frilly leaves that add color and texture to your salad.
Japanese Cucumbers – If you are growing in a planter, I suggest only planting a single cucumber plant, and surrounding it with smaller, leafy vegetables (any on this list. Give cucumber plenty of room to grow and catch the sunlight with a trellis.
Momotaro Pink Tomato – This variety of tomato produced so much fruit!
For Stir Fry Lovers
Extra Dwarf Pak Choi – I love the tight, compact leaves.
Chinese or Japanese Eggplant
Chinese Broccoli – Harvest when buds are still closed. Once the stalk fully flowers, it's a sign that the Chinese broccoli is getting mature and will turn stringy and bitter.
Misome – A newer hybrid, grows really well! This was one of my kids favorite vegetables. They have tender, glossy, dark green leaves, great for stirfries and harvested, while baby, for salads.
Snow Peas – My kids are known to harvest and eat at the same time….one for my tummy….one for the basket.
Essential Asian Herbs
Thai Basil – So easy to grow! The lavender flowers are pretty and I pick the Thai Basil to add to my flower arrangements. Try making a lighter, Asian style pesto with walnuts, garlic, ginger, Thai Basil, parmesan and lime.
Shiso or Perilla – I prefer the Japanese Shiso (green) as it's more tender, milder than its Vietnamese or Korean counterpart.
Cilantro – I use the leaves for garnish and in Mexican cooking, but for stir fries, I very finely mince the Cilantro stems and add them along with garlic and ginger.
Mint – I keep mint in its own small container. Mint grows like crazy, and will do a hostile takeover of your entire planter, its roots choking out the other plants, if left unchecked!
Lemongrass – This grows best in ground (not container garden) because it grows tall, deep and wide. It's actually beautiful as an accent plant in your yard. But keep the plant in a corner, or a place you don't walk by often. The long lemongrass leaves have baby fine hairs that can be prickly.
Asian Peppers
Shishito – Green, mild and so easy to grow. Baby shishito have a tougher skin. Let the pepper grow to 2 1/2″ or longer before harvesting.
Thai Bird Chile Pepper – For my spice loving friends! After harvest, I place whole peppers in a bag to freeze. They retain their color and flavor very well. Just defrost peppers as you need.
Lady Choi Chile Pepper – Korean pepper that is so versatile. I love drying the peppers and using them whole in stews or stir fries for the fruity flavor with just a hint of spiciness.
The Perfect Recipe for Springtime – Vietnamese Noodle Bowls
With all these homegrown Asian herbs and vegetables, you'll love making Vietnamese Noodle Bowls!  This recipe will utilize nearly every type of leafy greens from your garden. Crisp, crunchy fresh vegetables are accompanied by light rice noodles and bright herbs. Springtime is also the perfect time to dabble back into grilling. Start easy with skewered chicken, pork or beef, marinated in San-J Asian Cooking Sauces. Use any flavor sauce that you enjoy, all of them work wonderfully! Our favorite is the Asian BBQ for this recipe. To julienne carrots and cucumber, I love using a handheld julienne tool, like the Oxo Julienne Peeler, for less than $10.
Vietnamese Noodle Bowls
Serves 4
Prep: 30 minutes   |   Cook: 30 minutes
FOR THE GRILLED SKEWERS:
1/2 pound thinly sliced pork, chicken, or beef
1/4 cup San-J Asian Cooking Sauce, flavor of your choice
wooden bamboo skewers, soaked in water for 20 minutes
FOR THE DIPPING SAUCE:
2 tablespoons sugar
1/2 cup warm water
1 small clove garlic, very finely minced
3 tablespoons fresh lime juice
2 tablespoons fish sauce
fresh Asian chile, minced (amount up to you))
FOR THE NOODLE BOWLS:
8 ounces thin rice noodles
1 cup julienned carrot
1 cup julienned jicama
1 cup julienned Japanese cucumber
1 cup bean sprouts, roots pinched off
2 cups shredded or baby lettuces
Handful of fresh cilantro
Handful of fresh Thai basil
Handful of fresh shiso
1/2 cup chopped roasted peanuts
fresh lime wedges
In a large bowl, add the thinly sliced meat and San-J Asian Cooking Sauce. Mix to coat. Marinate for 20 minutes or up to overnight in the refrigerator.
For the dipping sauce, in a small bowl, whisk together the warm water with sugar until dissolved. Whisk in rest of the ingredients for the dipping sauce. You can do this ahead of time, up to overnight.
Bring a big pot of water to a boil. Add in the dried rice noodles, and cook for 3-4 minutes, until the noodles are tender and opaque white. Immediately drain and rinse with cool water to stop the cooking. Rice noodles will be gummy if overcooked. Set aside until ready to serve. Arrange the rest of the vegetables on large platters, and refrigerate until ready to serve.
About 15 minutes prior to go-time, pre-heat the grill. Skewer the meat onto the soaked bamboo skewers. Grill the skewered meat, 4 minutes each side over high heat, until cooked through. Please note that pork and chicken should no longer be pink in the middle. I prefer the beef to be slightly caramelized on the edges, but still tender and medium in the center. Timing will depend on how thinly you slice the meat.
Serve the rice noodles, grilled meats, fresh vegetables, herbs, peanuts, lime and dipping sauce, family style. Each person can assemble their own bowls.
SaveSave