Running a restaurant comes with plenty of responsibilities. You need to manage your staff, promote your business and ensure your customers are satisfied with every visit. Part of that responsibility also entails keeping your restaurant sanitized, from the kitchen to the front of house. Doing so will keep you open for business and maintain a loyal customer following.
With so many areas to cover, creating a restaurant sanitation plan takes a bit of thought, but it doesn't have to be a challenge. Below, you'll learn innovative ways to improve and maintain your restaurant's sanitation practices to keep everything clean and up to code. You can then market those practices to let your patrons know you value their health and safety.
Table of Contents
Understanding Health and Safety Procedures for Restaurants
How to Market and Uphold Your Restaurant's Commitment to Sanitation
More Tips for Keeping Your Restaurant Safe
Keep Focusing on Taste and Quality With San-J Tamari and Asian Cooking Sauces
Understanding Health and Safety Procedures for Restaurants
To keep their customers safe and doors open for business, restaurants must follow the rules for sanitation and cleanliness. The Occupational Safety and Health Administration (OSHA) has stringent guidelines, such as:
Maintain dry, clean floors
Handle food safely
Maintain fire safety
Ensure optimal working conditions
Enforce age limitations
You can give your customers peace of mind and ensure they come back again and again by going above and beyond these and other safety regulations. Practices like keeping bathrooms clean and ensuring your staff maintains personal hygiene all contribute to a clean and healthy restaurant.
How to Run a Clean Restaurant
Now that you understand the stringent health and safety standards your business needs to follow, you will need to set specific practices in place for keeping your restaurant clean and running smoothly throughout the day. Because there are significant penalties for breaking safety protocols, here are various ways to ensure your restaurant's doors remain open:
1. Create a Safe Environment
First and foremost, you will need to gain your customers' trust and loyalty by making your restaurant feel like a safe and clean place to dine. If it is evident that your staff is taking all of the advisable precautions, customers will feel more comfortable and safe going to your restaurant. You can start meeting guests' safety expectations by following various restaurant cleanliness guidelines, both in the kitchen and the dining area.
One of the most crucial components of health and safety is keeping your restaurant as clean as possible. To maintain the cleanliness of your restaurant and combat the spread of germs, use a disinfectant that has been deemed effective at killing bacteria and viruses. Regular cleaning with soap and water is also effective.
Along with regular cleanings, providing adequate personal protective equipment (PPE) for your workers is essential to preserving the safety and cleanliness of your restaurant. Make sure your restaurant always has plenty of the following PPE in stock at all times:
Gloves: Every member of your team should wear disposable rubber gloves when handling food. Make sure anyone involved with prepping raw food wears gloves and changes them regularly. You could even supply antibacterial gloves for team members who handle cash.
Hand sanitizer: Set up hand sanitizer stations at various spots around your restaurant, especially next to any doors, restrooms and high-touch areas like by the cash register. Refill these regularly and encourage their use for both staff and patrons.
Hand-washing stations: Servers and other staff may not have time to go to the restroom to regularly wash their hands. Installing sinks for hand-washing in service areas can enhance hand cleaning procedures and protect your customers and staff.
Be aware that some types of PPE are better than others. For example, your hand sanitizer should contain at least 60% alcohol to effectively kill germs, according to the Centers for Disease Control and Prevention (CDC). Ensuring that your hand sanitizer, soap and gloves are high-quality will keep your restaurant that much cleaner and safer.
2. Create a Cleaning Schedule
Maintaining a sanitized restaurant from the back to the front of house is easier if you create a cleaning schedule. Organize yourself and your employees to maintain a healthy space for customers that follows restaurant cleanliness standards. You can break your cleaning schedule down based on tasks that will need to be repeated throughout the day to tasks that can be done on a daily or weekly basis:
Repeatedly: Your staff should repeatedly clean surfaces in the kitchen that come into direct contact with food, like counters. Sanitize the tables and seats after each visitor to help promote a healthy environment. Wash and sterilize cooking and dining utensils, dishes and other small appliances like blenders after each use. You should also clean high-traffic surfaces like railings and door handles or knobs throughout the day. Have staff regularly check bathrooms, as well, to spot clean them and stock up supplies as needed.
Daily: Sweep, mop or vacuum the floors at the end of the day to take care of crumbs and maintain a clean restaurant. Sanitize surfaces like takeout counters that don't see as much contact as dining tables do. To maintain a clean appearance throughout your business, you should also clean windows and glass on doors at least once a day. Sparkling-clean windows show your customers you put in the effort to keep everything clean. A daily deep clean of the bathroom will also give patrons a pleasant experience at your restaurant.
Weekly: Sterilize cooking units like stoves, ovens and fryers at least on a weekly basis or more often as necessary. You can also conduct regular cleaning, like dusting walls, corners, light fixtures and decorations in your dining room, to help keep things clean.
Part of your cleaning schedule should also involve laundering cloths you use to wipe down tables and surfaces. Be sure to check your supplies regularly, as well, and stay stocked up on everything from sanitizing solution to paper supplies.
Create a routine cleaning schedule to ensure your restaurant gets regularly sanitized and disinfected. Be sure to pay extra attention to any surfaces that customers touch, such as doors, light switches and beverage stations. If your in-house staff isn't equipped to keep up with these cleanings, consider scheduling daily cleanings by a professional disinfecting service.
3. Follow Food Safety Guidelines
One of the most significant parts of running a healthy and clean restaurant is maintaining food safety practices. You'll ensure customers consume safe and healthy food, avoiding the spread of any illnesses. Your food safety procedures can include steps like:
Encouraging kitchen staff to wash their hands: Anyone working with food should wash their hands before, during and after preparation, especially when working with raw meat or eggs. Servers should wash their hands regularly, as well, especially after clearing dishes, using the restroom or taking out the trash.
Washing utensils and prep surfaces: Remember to keep cutting boards, knives and other food prep utensils and surfaces clean while cooking.
Separating utensils and prep surfaces for raw meats: Have dedicated cutting boards and utensil sets specifically for raw meat to help prevent cross-contamination. Label these and keep them separate from preparation tools used for produce.
Washing food appropriately: Your kitchen staff should wash and clean produce with running water and sometimes a clean produce brush. Avoid washing meats, though, as the water could spread bacteria around the kitchen.
Cooking foods to the right temperatures: Ensure cooking staff follows food temperature guidelines by having various thermometers available for use, which you should clean regularly. Post the temperature guidelines in the kitchen so it's easy for staff to refer to as they prep food.
4. Reimagine Your Restaurant's Layout
Making your restaurant suitable for serving customers can involve redesigning your restaurant's kitchen and seating areas to allow for ample distance between diners and increased airflow around the restaurant. Along with boosting cleanliness, maintaining proper distance between customers will give them a sense of comfort and privacy. Distance between tables can also make it easier to reach every corner of the surface and clean the floors around them.
Don't forget to continue prioritizing the safety of your back-of-house (BOH) employees. Do whatever you can to open up your kitchen's layout to allow for better airflow and more space between workers. In nice weather, outdoor cooking may be an option. Adding more space to your BOH environment can increase safety since fewer accidents are likely to occur when workers have enough room.
5. Promote Touchless Dining Solutions
Minimizing person-to-person contact has been key for restaurant health and safety. Restaurants around the globe have developed innovative solutions for avoiding direct customer and employee interactions that might promote the spread of germs.
Here are the top three touchless dining solutions to consider implementing at your restaurant:
Mobile pay: Mobile payment is ideal for preserving hand hygiene because it allows customers to complete transactions by simply scanning the screen of their mobile device. This contactless payment method eliminates the need for patrons and workers to exchange potentially germ-ridden items such as cash, cards or change.
Digital menus: Offering digital menus instead of traditional physical menus will also protect health and hand hygiene by reducing the number of shared objects among customers. Switching to digital menus will also save your staff from having to frequently clean laminated menus. You can also edit or update your menu more easily and affordably.
Contactless pick-up and delivery: As part of your takeout services, you might include contactless options such as curbside pick-up stations and doorstep delivery. Setting up a pick-up stand near your restaurant that allows customers to grab their orders and go will eliminate the need to interact with an employee. Additionally, letting customers pre-pay for their delivery orders online or in a mobile app means their deliveries can be left at the door instead of handed off by a restaurant employee. That frees up staff time to focus on cleanliness measures inside your restaurant.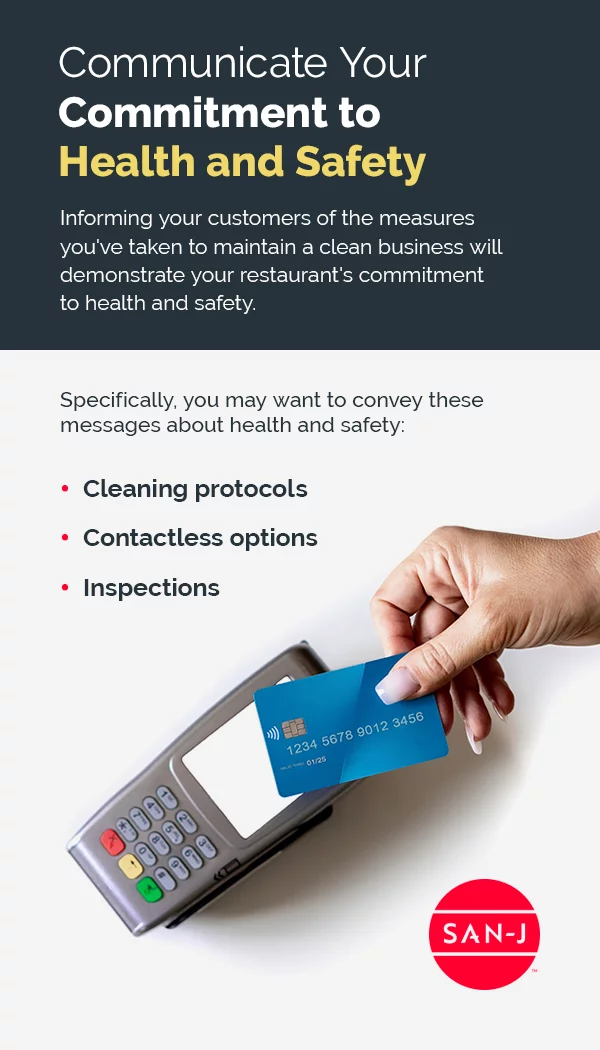 6. Communicate Your Commitment to Health and Safety
After you've put in all the work to create a safe environment and establish touchless dining options, make sure you communicate the efforts you've taken to your customer base. Informing your customers of the measures you've taken to maintain a clean business will demonstrate your restaurant's commitment to health and safety.
To accomplish this goal, make an abundance of caution part of your brand and supercharge your marketing to get the message across that your restaurant values its customers' safety. Specifically, you may want to convey these messages about health and safety:
Cleaning protocols: Inform customers of your restaurant's rigorous cleaning procedures and how frequently the establishment is disinfected. Post signs encouraging regular hand sanitizing and washing.
Contactless options: Promote any touchless dining solutions your restaurant offers, including carry-out, curbside pick-up and delivery services. You can also emphasize that your restaurant accepts mobile payments.
Inspections: Make your restaurant's inspection information available to the public for their added peace of mind. Keep your inspections recent and up-to-date to ensure you're adhering to guidelines.
How to Market and Uphold Your Restaurant's Commitment to Sanitation
Now that you are familiar with what messages to communicate, it's time to discuss how to share your messages in a manner that's reassuring to customers and uphold your dedication. When dealing with topics as serious as health and safety, people tend to look for stability in the form of brands they can trust. Your restaurant can be a dependable source of information by focusing on authenticity.
While authenticity has been in demand for some time, prioritizing honesty and genuine human connection has become a crucial component for gaining customers' trust. Restaurants must provide their communities with reliable, up-to-date and relevant information about safe and accessible food options if they want people to feel safe dining with them.
If you suspect your brand messaging may not be resonating with consumers, follow the guidelines suggested below to revamp your brand and earn your customers' trust.
Advertise Your Safety Measures
You maintain a clean and healthy environment, and you should share that information with your customers. That could come in the form of having staff visibly cleaning your business to actively advertising the measures you're taking. Overall, your goal should be to reassure your current and potential customers that your restaurant is taking strict safety and sanitation measures.
Although food safety protocols and sanitation policies never used to be topics restaurants shared much about before, they must be at the front and center of your brand messaging now. Providing information about your restaurant's sanitary processes can put customers at ease and position your restaurant as a smart, convenient and healthy choice for ordering food.
Specifically, advertise your health and cleaning practices to your customers, such as the following:
More stringent cleaning procedures
Updated food safety training materials for employees
More frequent hand-washing requirements for employees
Contactless ordering
Mobile app delivery options
Ultimately, you want to communicate that your restaurant goes above and beyond in its food safety practices to help consumers feel secure in their dining choices. Alleviating customers' food safety concerns and presenting them with safe, convenient dining options will make a lasting impression on them and bolster customer loyalty.
Of course, your brand messaging shouldn't just focus on the fact that you're a sanitized business. Restaurant-goers expect that level of attention to detail from businesses like you. But if you put restaurant health and safety guidelines into practice, your patrons are sure to notice and be interested in coming back.
Seek Customer Feedback
Demonstrating an eagerness to listen to your patrons and continue improving can create loyal customers who appreciate your concern. Make yourself open to customer feedback by checking online reviews, especially concerning topics of cleanliness and sanitation. Adjust your procedures if necessary based on the feedback you see. For instance, you might see remarks about your bathroom or floor. Ensure you or staff pay extra attention to cleaning areas of concern.
You can also encourage customers to come to you with any concerns about health or safety to get ahead of any potentially negative online reviews. Post signage politely requesting customers to let you know of any issues or use feedback cards at tables or feedback forms on your website to get private responses from patrons.
If you're confident in your health and safety practices, encourage customers to share their experiences through reviews to bolster your online image.
More Tips for Keeping Your Restaurant Safe
Sanitation is a significant part of running a safe restaurant, but it's not the only consideration you should make. We have a few more restaurant health and safety tips to share to help keep your business running.
Follow Fire Safety Standards
According to the National Fire Protection Association (NFPA), cooking equipment is responsible for 61% of structure fires in dining and drinking establishments. Keep your staff, your customers and your property safe when you take the necessary precautions to implement fire safety. Use safety measures like these to keep your restaurant safe:
Install and test fire alarms and fire suppression systems: Have working fire alarms in place to alert customers and staff of smoke or fires, and use fire suppression systems to help stop fires from spreading. Rely on a professional to install these systems and to check them every six months.
Have fire extinguishers available: Class K extinguishers are made for commercial cooking sites since they can put out grease fires. Keep these in accessible areas with proper signage and instruct your staff on how to use them. Inspect and replace extinguishers regularly.
Inspect and clean cooking equipment: Use your cleaning schedule to avoid a buildup of grease that could lead to a fire. You should also have your cooking equipment tested and inspected at least every six months to keep them well-maintained.
Have proper egress: Egress allows for evacuation in the event of a fire. Your egress requirements will depend on the size of your restaurant and how many patrons it can hold. Avoid blocking exits with tables or chairs and ensure you have clear paths in and out of the building.
Use Proper Ventilation
A proper ventilation system can keep your kitchen and dining areas clean and comfortable for staff and patrons alike. Your ventilation system can keep smoke, heat and moisture from building up in your kitchen, which would create an unpleasant and potentially unhealthy work environment. Install and inspect systems like vent hoods to ensure they're functioning properly, and ensure your kitchen staff uses these ventilation appliances whenever they're cooking.
Keep Focusing on Taste and Quality With San-J Tamari and Asian Cooking Sauces
A healthy, sanitized and clean restaurant can help bring in more patrons and create loyal ones. But considering one of the best ways to retain customers and gain new ones is to consistently dish out delicious culinary creations, your restaurant should also use top-quality ingredients. Your business can continue to wow customers by boosting its flavors with San-J Tamari and Asian Cooking Sauces. Our cooking sauces are packed with bold flavors, Non-GMO Project verified and certified gluten-free so you can be confident you're giving your customers something delicious.
To incorporate more San-J ingredients in your restaurant's menu, check out our wide variety of recipes and order your San-J sauces today.