Organic Tamari Soy Sauce
– Gluten Free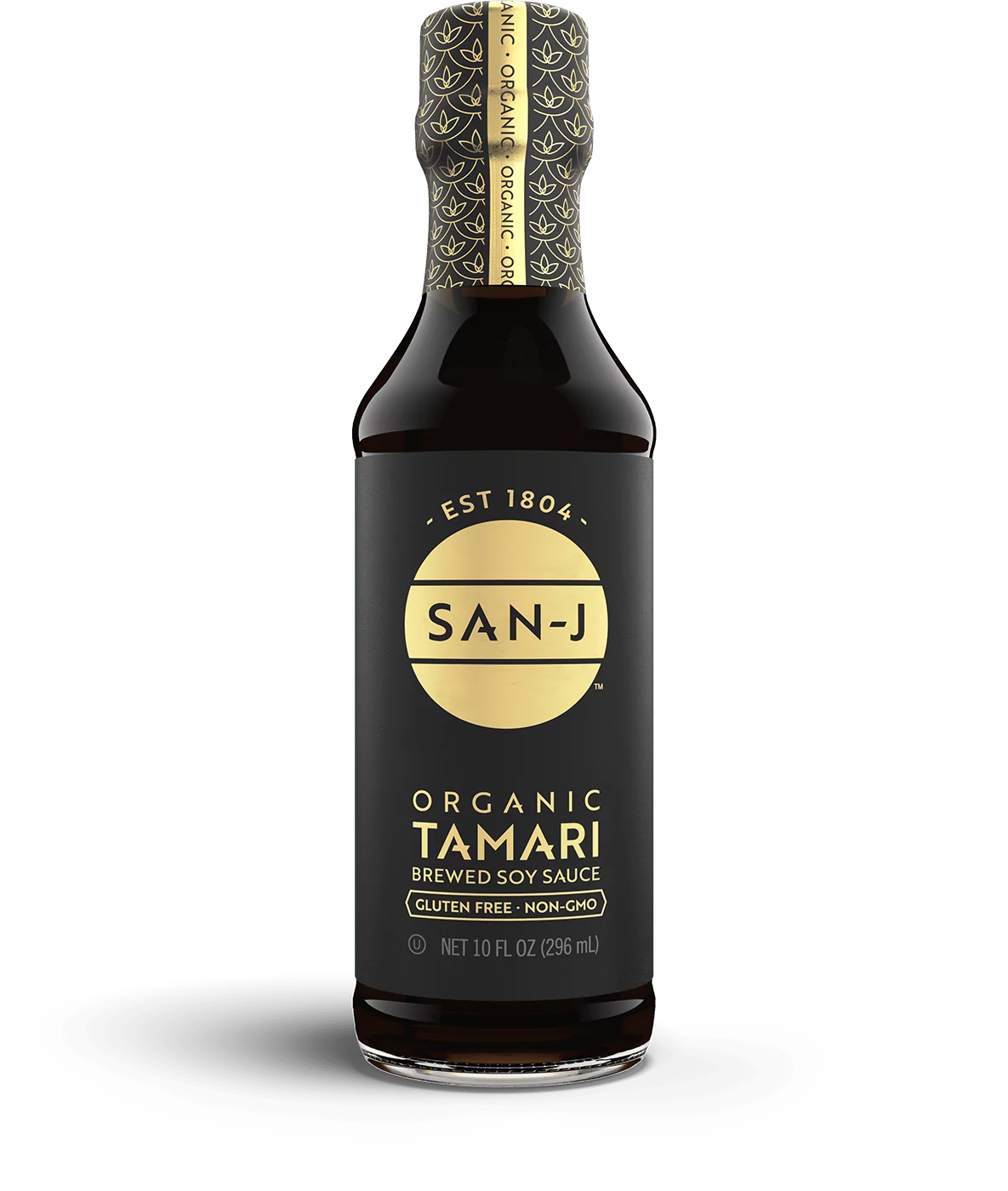 Product Features
---
Made with 100% whole soybeans and no wheat, San-J gluten-free Organic Tamari Soy Sauce has a richer and milder taste than regular soy sauce. Our fermentation process gives San-J Tamari a rich, delectable flavor that enhances any type of cuisine. It is perfect for stir-fries and marinades. It also works as a dipping sauce and as an addition to soups, sauces and casseroles. You can even pair this sauce with all organic ingredient dishes. There are countless more ways to enjoy this condiment that's certified by the USDA Organic and Quality Assurance International.
Use our Organic Tamari Soy Sauce as part of a homemade salad dressing or a tender glaze for meats and other protein dishes. You could also pour a small bowl for sampling sushi, gyoza or egg rolls and taste the connection to Japan in every bite.
Applications

---

Try Our Authentic, Responsibly Brewed Tamari
We've crafted our organic soy sauce to meet many quality assurance standards. Our product is certified by the Gluten-Free Certification Organization and the Non-GMO Project to be free of gluten and artificial additives. It's also a certified vegan, kosher and FODMAP friendly food.
Discover the renowned flavor of our specially brewed Organic Tamari Soy Sauce for yourself! Use our product locator to find a store near you, and look for the new label or buy it online today.
Nutrition Facts
Serving size
1 Tbsp. (18g)
Total Carbohydrate <1g
0%
The % Daily Value (DV) tells you how much a nutrient in a serving of food contributes to a daily diet. 2,000 calories a day is used for general nutrition advice.
Ingredients
---
Water, Organic Soybeans, Salt, Organic Alcohol (to preserve freshness).
Allergens
---
This San-J Tamari product contains soy ingredients.
Serving Size
---
1 Tbsp. (18g)
Servings Per Container
---
20 per 10 fl oz/UPC # 075810-001257
40 per 20 fl oz/UPC # 075810-001356