Are you running out of at-home date night ideas? Whether you're trying to save money by dining in or simply don't feel like going out, a Japanese-themed dinner lets you have a dream date without even leaving the house. If you're more interested in eating than playing chef for the night, there are many quick, easy Japanese meals you can whip up in no time.
To help you create a romantic date night at home, we'll walk you through the basic components of a typical Japanese dinner and offer inspiration for delicious recipes. Discover the secrets to a successful Japanese dinner date night below.
Table of Contents
Components of a Traditional Japanese Dinner
Easy Japanese Dinner Recipes for Date Night
Use San-J Sauces to Make Your Japanese Dinner Date Night a Success
Components of a Traditional Japanese Dinner
Before diving into cooking Japanese cuisine, understand the main elements of a typical Japanese meal. A typical home-style Japanese dinner consists of one soup and three dishes, along with a bowl of rice. This is called "Ichiju Sansai(一汁三菜), which literally means one soup three dishes. The soup, one main dish, and two other vegetable side dishes are set out at the same time during a Japanese dinner, as opposed to the multi-course meals typically found in Western and European cultures. Following the meal, there may be dessert which is usually seasonal, peeled, seeded, and nicely cut fresh fruits.
Create your Japanese-themed date night dinner by understanding the main components of a traditional meal:
Soup
A typical Japanese dinner includes a light soup. The most common type is miso soup, which has a miso base and can include a variety of ingredients. Miso soup is most often kept simple and involves only a few basic ingredients, such as tofu and green onions, because it's not intended to fill you up.
Another popular soup is Japanese Noodle Soup that incorporates Udon noodles, Red Miso Paste and our Tamari Soy Sauce. Check out our recipe.
Main
Typical Japanese dinners usually involve seafood because the country is surrounded by the sea. Traditional recipes from this island country may include grilled fish, fried fish, raw fish known as sashimi or other seafood, such as shrimp. Japanese recipes can include other protein sources as well, like poultry, pork, beef and tofu.
Vegetable Side Dish 1
Along with seafood, vegetables are a staple of Japanese-style cooking. Typically, vegetables are simmered in a savory fish broth seasoned with soy sauce, mirin, and sake, the most common version of the Japanese seasoning combination. Or vegetables are sautéed, boiled or steamed in water. Some dishes include protein along with vegetables. Japanese vegetable side dishes are often kept simple.
Vegetable Side Dish 2
The other side dish is usually a lighter, vegetable dish, such as goma-ae, blanched vegetables tossed with soy sauce, sesame and sugar, or a Japanese-style salad which is vinegar marinated vegetables, such as cucumber salad. This salad portion of a Japanese meal could be a Western-style fresh lettuce salad.
Rice
Whether it be white or brown rice, every traditional Japanese dinner includes steamed rice. Sometimes, the steamed rice may be mixed with grains, beans and seeds, such as azuki beans, millet, quinoa, and sesame seeds. Japanese steamed rice is often served with nori — seasoned dried seaweed — or furikake — a dry rice seasoning condiment — and accompanied by pickled vegetables. There are rice dishes called Takikiomi Gohan, rice cooked with vegetables and seasonings for more flavorful options.
Beverages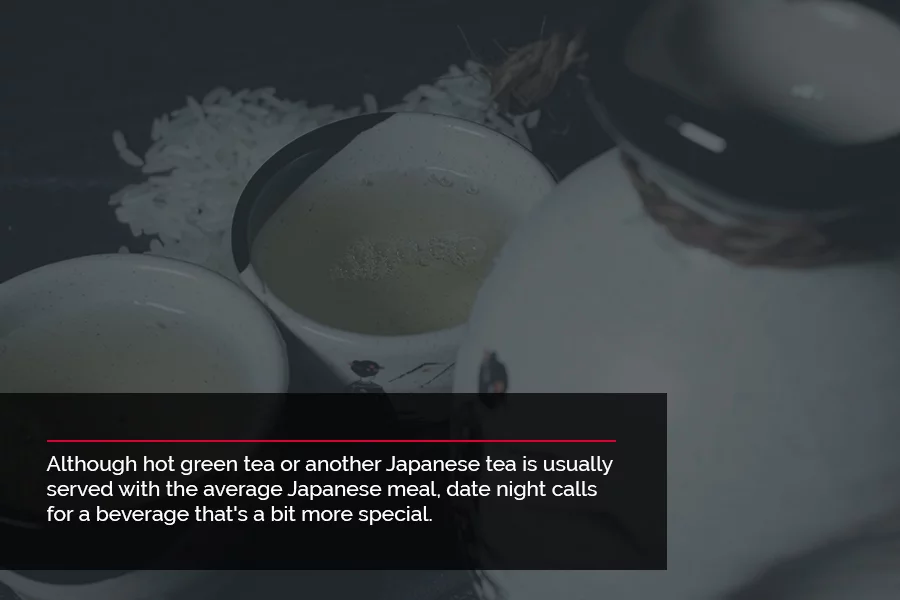 A traditional Japanese meal is not complete without a cup of hot green tea. Sometimes, a different Japanese tea is served alongside a meal, such as mugicha, a cold barley tea that's popular during the hot summer months. On special occasions, alcoholic beverages like sake or beer may be paired with Japanese cuisine.
Dessert
Typically, peeled and nicely cut, fresh fruits are served after meal as a dessert. Other special desserts may be served for special occasions. Japanese desserts range from sweet rice cakes and pastries, Japanese-style cheesecake, to gelatins and frozen treats, such as mochi ice cream.
Easy Japanese Dinner Recipes for Date Night
A Japanese dinner is the perfect at-home date night because the cuisine's unique flavors make it easy to impress your significant other. Japanese cuisine stands out for its exceptional use of umami, which is a deeply satisfying, savory flavor that comes from foods like seafood, soy sauce and mushrooms. Because umami is one of the five basic tastes, Japanese dishes often appeal to our senses in a way other cuisines don't.
Below are quick, easy Japanese recipes for each component of a traditional meal to help you capture those flavors.
Soups
A typical Japanese dinner always includes some sort of soup. Japanese-style soups are almost always hot, as chilled soups are far less popular. Because all of the food is served at once during a Japanese meal, it is important to keep the soup light to save room for all the other tasty dishes.
If you're looking for a warm way to kick off date night, here are a few easy Japanese soup recipes that are sure to be a hit:
Main Dishes
The star dish of your traditional Japanese dinner can vary depending on your tastes and dietary needs. While there are certainly some signature Japanese main dishes, Japanese-style cooking is eclectic and adaptable. You're sure to find a dish both you and your date will love.
Here are the main categories of entrées along with some delicious Japanese dinner recipes to choose from:
Side Dishes
The side dishes in a traditional Japanese dinner are just as important as the entrées. Choose a couple of delicious side dish recipes for your date night to complement the flavors in your main dish. Luckily, there are plenty of mouth-watering Japanese side dish recipes that are quick and easy to prepare.
Here are a few sides you may want to consider to complete your Japanese meal:
Beverages
Although hot green tea or another Japanese tea is usually served with the average Japanese meal, date night calls for a beverage that's a bit more special. Alcoholic beverages like sake and wine are often enjoyed with a Japanese dinner on noteworthy occasions. You can make your date night extra memorable by making an expert food and wine pairing.
Here is a quick guide to Japanese alcoholic beverages and their food pairings:
Desserts
You can't end date night without dessert. The perfect Japanese dinner is finished with a decadent cake that's just as fun to look at as it is to eat. While you might not have all the cake decorating skills of a Japanese pastry chef, you can still make a delicious and aesthetically pleasing cake with the right recipe.
Here are a few Japanese dessert recipes to help end your date on a sweet note:
Use San-J Sauces to Make Your Japanese Dinner Date Night a Success
If you're ready to try making a traditional Japanese dinner this date night, incorporate sauces from San-J. San-J Tamari Soy Sauce, Tamari Splash, and San-J Asian Cooking Sauces use simple ingredients to deliver an authentic flavor experience. Our sauces are also certified gluten-free, so they can give your dishes bold flavor while meeting your dietary needs.
Check out the wide variety of San-J Sauces today to get ready for your Japanese dinner date night.