Thai Peanut Sauce
– Gluten Free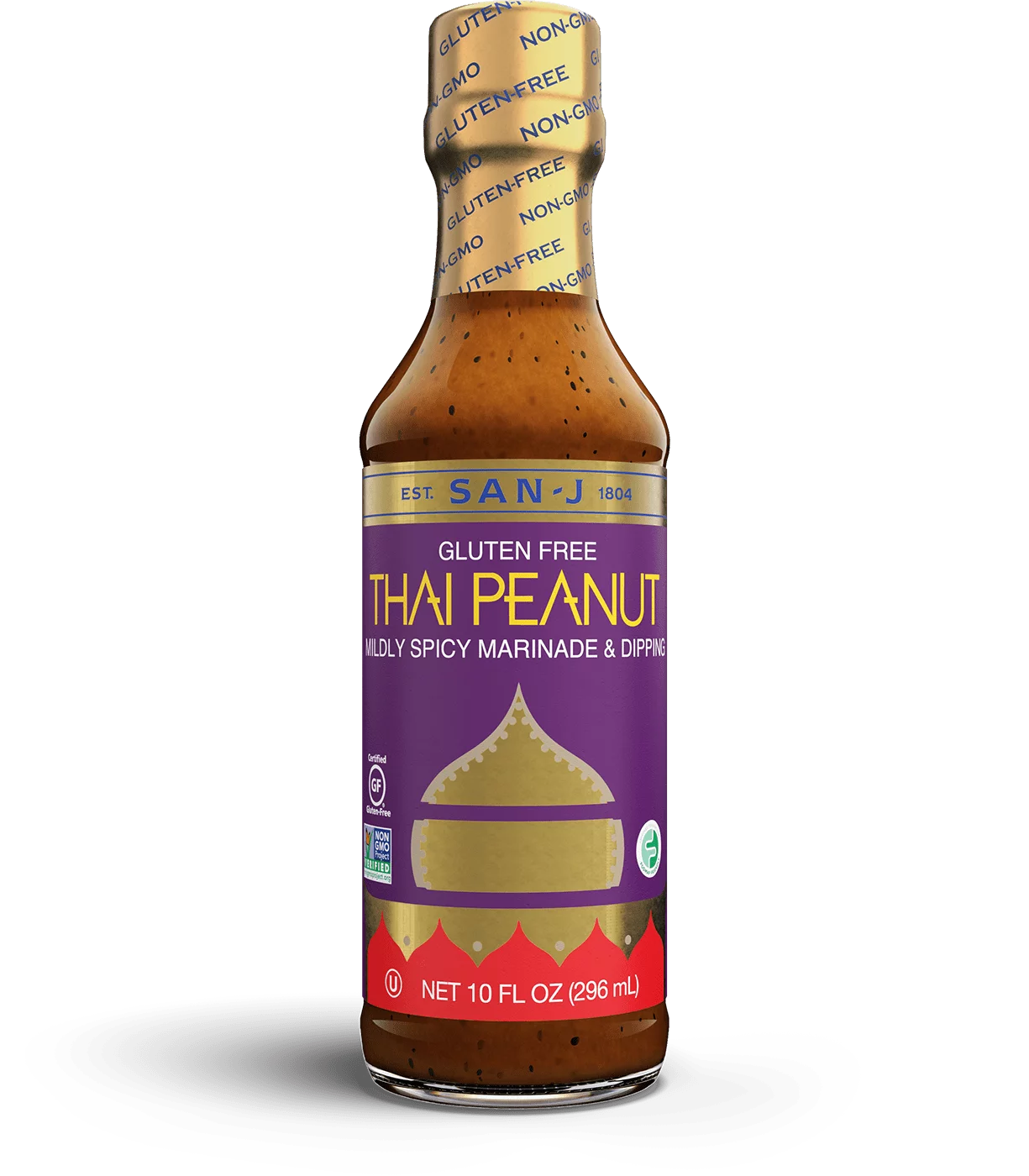 Product Features
---
Make your next dish exciting and exotic with a splash of our seasonings, inspired by the distinct flavors of Thai cuisine. The balanced ingredients in our Thai Peanut Sauce create a slightly spicy, nutty, sweet and altogether rich taste. This Asian Cooking Sauce is crafted with our Tamari Soy Sauce, which contains no wheat or gluten, and is a certified gluten-free product by the Gluten-Free Certification Organization.
Thai Peanut Sauce is traditionally used for a mouthwatering satay on the grill, made from skewered chicken. Our Thai Peanut Sauce is much more than a marinade — mix it into a stir fry for delectable sauteed vegetables or pork. Give your bowl of greens a little kick and discover your new favorite dressing, or toss with pasta and summer produce to create a picnic-ready pasta salad. The creamy hint of this sauce also makes a heartier broth for soups and stews with chicken or pumpkin.
With our Thai Peanut Sauce, it's so easy to cook a yummy noodle dish or tempeh without fussing over as many seasonings. Serve our Thai Peanut Sauce by itself as a dip for spring rolls, or stir in and spice up your hummus for veggie snacking. So versatile and unique, you'll never run out of ways to add delicious Asian flair.
Applications

---

Thai Peanut Sauce Brings the Finest World Flavors to Your Kitchen
We believe quality ingredients make all the difference in experiencing authentic seasonings and flavors from Asia. There are no artificial flavors, colors or preservatives within our Thai Peanut Sauce, a process verified non-GMO by the Non-GMO Project. This is a certified kosher and FODMAP friendly product as well.
The complex flavors in our Thai Peanut Sauce create the perfect accent for your favorite foods. Give our cooking sauce a try today! You can find it at your nearest store with our product locator or buy it online and have it sent right to your door. Make sure to explore our other Asian cooking sauces as well!
Nutrition Facts
Serving size
2 Tbsp. (30mL)
Includes 7g Added Sugars
14%
The % Daily Value (DV) tells you how much a nutrient in a serving of food contributes to a daily diet. 2,000 calories a day is used for general nutrition advice.
Ingredients
---
Tamari Soy Sauce (Water, Soybeans, Salt, Alcohol), Organic Sugar, Peanuts, Water, Apple Cider Vinegar, Sake (Water, Rice, Salt), Rice Vinegar, Organic Honey, Garlic Powder, Salt, Spices, Lemon Juice Concentrate, Canola Oil, Cilantro, Xanthan Gum.
Allergens
---
This product contains peanut and soy ingredients.
Serving Size
---
2 Tbsp. (30mL)
Servings Per Container
---
About 10 per 10 fl oz/UPC # 075810-140253